If the ring contacts or enters the goal crease while the shooter's stick is in the ring and the ring subsequently crosses the goal line - the goal is not counted; because a crease violation has occurred.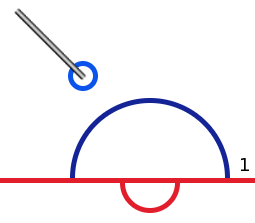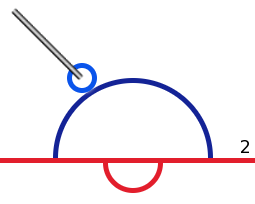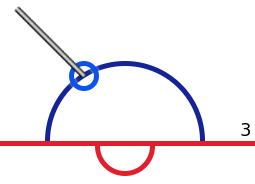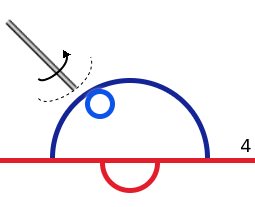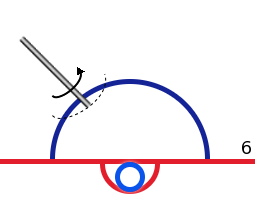 In the above examples - only 1, 4, 5 and 6 are LEGAL shots on goal.
* Other situations can cause a goal to be nullified. Please see the Ringette Canada Official Rules 10.3 A goal is nullified...
Source: NOCP Rules Supplement & Ringette Canada Official Rules
News
The online High School Ringette Tournament apparel store is Open!
https://baltic-athletics.myshopify.com
Password: PLAYHARD
The Online Store will be open till March 15th.
This year there is a variety of apparel available. T-shirts, hoodies, long sleeve shirts and sweat pants. There is the option to personalize each item you purchase as well.
All clothing items will be delivered to the tournament at the team's first game.
Congratulations to the following teams for winning gold at ERL playoffs held during the Louis Riel weekend:
U10 A1 - Springfield
U10 A4 - Lorette
U12 A2 - Springfield
U14B - Red River Rage
U16B - Steinbach
U19B - Grunthal
A big thank you to Jaime Preteau, the Grunthal Ringette Association, and the Grunthal Community Centre for a wonderful ERL playoff weekend. Good luck to all the teams that competed as you prepare for the upcoming WRL playoffs.
ERL playoff results will be updated regularly and can be accessed using the following link:
https://eastmanringette.gameonmanager.com/files/2018%20ERL%20Playoffs/2018%20ERL%20playoff%20scores%20for%20website.xlsx
50 - 50 Draws and Other Prizes
Friday's, Saturday's & Sunday's 50-50 prizes have all been claimed as well as all silent auction prizes, pick a player and loonie stick.
February 2018
s
m
t
w
t
f
s

1

2

3

4

5

6

7

8

9

10

11

12

13

14

15

16

17

18

19

20

21

22

23

24

25

26

27

28
Standings