"A ring on or touching the blue line is simultaneously in both of the zones bounded by that line and is playable by all eligible players."
When the ring is on or touching the blue line, nearly any player may play the ring and carry it into either zone. The player who last touched the ring may only carry the ring back into the zone where they last touched it, or they can tap the ring to pass it into the other zone.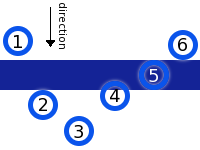 In the image above, the player who last touched the ring may only shoot or pass rings 1,2,4,5 or 6 into the next zone. They may not play ring 3. Any other player may carry rings 2,4,5 & 6 into either zone, and can play rings 1 & 3 normally.
Source: Official Rules and NOCP Rules Supplement
News
Eastman teams had amazing success in the WRL playoffs winning a total of 16 medals in the various age divisions. The following is a summary of Eastman's tremendous achievement:
U10 - 3 gold medals, 2 silver and 1 bronze
U12 - 1 gold, 1 silver and 1 bronze
U14 - 1 gold, 1 silver, 1 bronze
U16 - 1 silver
U19 - 1 gold
Open - 2 bronze
Congratulations to the players and coaches for their success in the WRL playoffs.
Team South won gold at the Manitoba Winter Games held in Thompson earlier this the month. Team South had five Eastman players and was coached and managed by an all Eastman bench staff. The team had a perfect 5 - 0 record in round robin play and won gold with an 8 - 4 victory. The team was coached by Katie Schoenborn - Head Coach (U16 A Eastman Heat), Catherine Lemoine-Courcelles - Assistant Coach (U16A Eastman Heat), Brooke Enns - Assistant Coach (U19AA Eastman Flames) and managed by Tara Ratz (Lorette Ringette).

Pictured left to right are: Emily Palmer (Steinbach Panthers) Taylor Ratz (Lorette Royals) Rhyan Beardy (Red River Rage) Trista Rempel (Steinbach Panthers) Jaiden Huberdeau (Lorette Royals) Hailey McWilliams (Red River Rage)
Pictured below is Team South with their gold medals.
Congratulations to all the Eastman ringette players who particiapated in the MWGs and also played on Team East, Team West and Team North.
The Springfield Ringette Association will be hosting a Come Try Ringette event on March 17, 2018. Details are indicated below.
The online High School Ringette Tournament apparel store is Open!
https://baltic-athletics.myshopify.com
Password: PLAYHARD
The Online Store will be open till March 15th.
This year there is a variety of apparel available. T-shirts, hoodies, long sleeve shirts and sweat pants. There is the option to personalize each item you purchase as well.
All clothing items will be delivered to the tournament at the team's first game.
July 2018
s
m
t
w
t
f
s

1

2

3

4

5

6

7

8

9

10

11

12

13

14

15

16

17

18

19

20

21

22

23

24

25

26

27

28

29

30

31
Standings